Volunteers promote Samboen at Scandinavian Cal Look Classic

Photo: Glenn André Fjeldstad Reinli
We've been quiet this summer. The bus has had a holiday at bodyshop Sartor Biloppretting waiting to get a timeslot on a Car-O-liner for a check and the last part of the welding.
Due to big workloads and summer holidays it has not been easy to stitch Samboen in as extra work in between their regular business. We're happyr that Samboen has been promised some attention as soon as their troops have finished their holidays.
In the meantime we have had our hands full with loads of loose parts to restore and prep. New orders for parts have been placed, amongst them a whole new interior from the States.
New volunteer jobs to raise funds have also been planned, there will be loads of opportunities to participate!
Several of the volunteer groupo Hel Ved was at SCC last weekend. (Read more about SCC).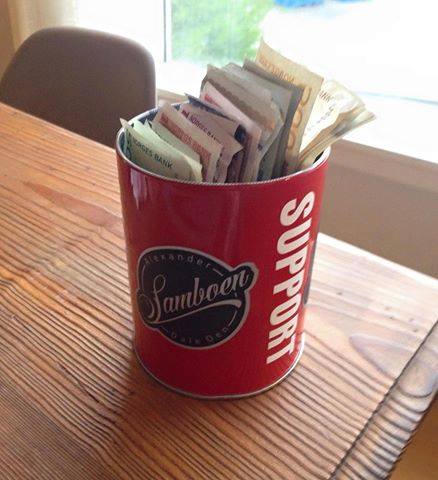 We brought T-shirts and stickers and a nice Samboen box for collecting money. This meet gathers a lot of Volkswagen aircooled enthusiasts close to Garermoen Airport. There is dragracing, tyre-kicking, a gravel rally and swap meet. This is a weekend a lot of people in the norwegian aircooled community look forward to each year. Unfortunately we could not bring the bus on this 1000 km journey across the Norwegian mountains.
The project was well presented by the speaker and we put up a small stand to sell T-shirts and answer questions. We raised over 7000 NOK this weekend. Next year Samboen will drive there by it's own power.
We would like to thank everyone for their support.