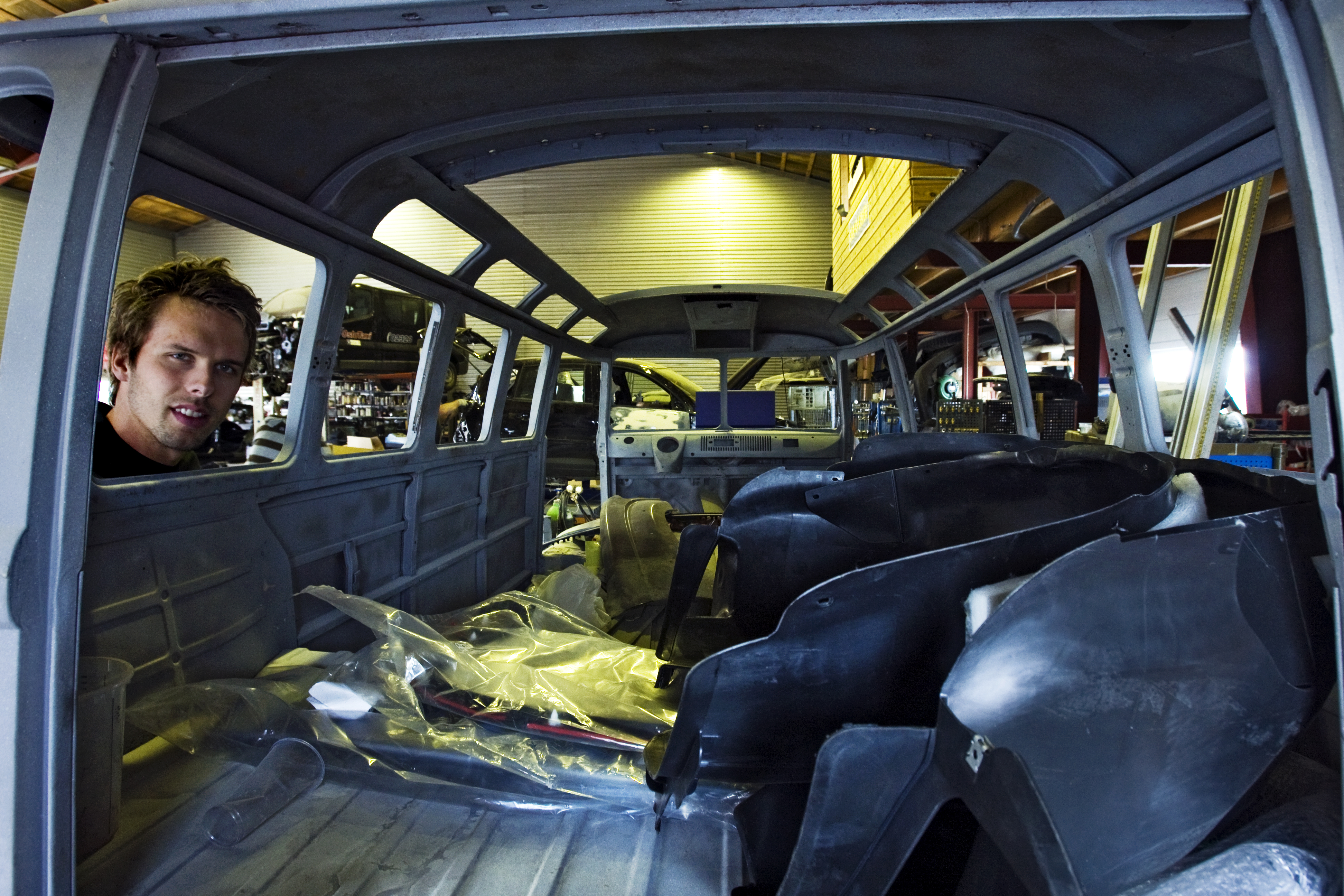 Our great friend, Alexander Dale Oen, died only 26 years old in 2012. He was a great fan of classic Volkswagens. He had a small collection himself. A 1957 Ragtop Oval in Agave Green (see attached picture) and he had started renovating a 1960 23W Samba. Alexander Dale Oen was famous because he was a World Champion swimmer and a great photographer. Alexander Dale Oen was an inspiration to so many. He taught us that we could go far with determination and focus. In addition, he was a role model for us with his humanity when we needed it most after 22 July 2011. This combination of strength and vulnerability made him loved and honored. We can tell you many special stories about Alexander, but first we want to tell you about a project we have now started in Bergen, Norway
This story stars a Volkswagen Samba 23 Window from 1960. Alexander bought this in 2006 after he finally got hold of this Samba at thesamba.com (an aircooled Volkswagen webpage in the US). The car was shipped to Norway and when he received the bus in Bergen, it turned out to be in much worse shape than expected. It was later stripped down and media blasted. Alex and his father started welding the car and the list of fresh steel that needed was long. He bought the panels from Gerson in Columbia, sourced a new bulkhead in the Netherlands, a new front in Norway, and new side panels from AutoCraft in England. Quality parts all the way. The welding started and the progress was there when Alexander was home (he traveled 260 days a year).
Alexander Dale Oen sadly died 30. April 2012 on a training camp in Flagstaff, USA. The car was stored for two years after he died. In the meantime his family with support from friends raised a non-profit organization in the memory of Alexander called The Dale Oen Experience. The Dale Oen Experience is an organization aiming to facilitate positive experiences amongst children who may not have an easy childhood. They do this through trips, expeditions and other activities in the beautiful fjords and high mountains of Norway. The mix of nature and outdoors physical activity with loads of challenges has proved to be a great help to build confidence and hope for the future. It is in nature you get to know who you are and who you want to be.
To start the organisation we as friends have supported the family financially and most of all helped them by voluntary work.
We have now started a new project that include the 23Window Samba. When Alexander was traveling, at the most he felt sorry for not being able to finish the Samba. He was gathering many parts, but did not have the time to spend in the garage. He was preparing for the Olympics in London. We promised then that we would help him to get the project moving as soon as he and his father had finished the welding. This promise we gave then is a promise we kept.
We contacted the family this spring (2014) and agreed that we could get the car out of storage and get the progress back on track. We have done a lot of voluntary work to raise money for this restoration as well as gathering sponsors. We aim to finish the restoration in May 2015. If we succeed, we will give the Samba back to the family and the The Dale Oen Experience. May 21st 2015, this would have been Alexander's 30th birthday and this will be our gift.
We want them to use the bus to promote The Dale Oen Experience and give the kids an insight into Alexander's great hobbies.
As shown in the pictures that was taken when we collected the car from storage, there is a big task ahead of us. The air-cooled Volkswagen community in Norway is supporting the project and we receive help from many. Private and as well as commercial companies, but all the work on the bus we plan to do our self. The team 5-10 people that is working on this car has experience restoring Split Window busses, but we have never done a Samba before. We have started the project and we have hundreds of hours ahead of us. It will be a journey..
A promise is a promise.